Notification/Alert Blocks, Bars, Boxes [PSD]
Notification box is useful to let the user know what's going on with their action. This is a small element in the website, but if we do it right then our user will be more happy using our website. Sometimes they should be simple, in other cases with images and transparency; any notification or alert boxed greatly improve website usability or application interface.
Today collection contains various types of Notification/Alert Bars in Photoshop PSD format. Files are layered and well customizable. Enjoy.
---
Alert Boxes
They are easily customizable and give you 2 different styles to choose from.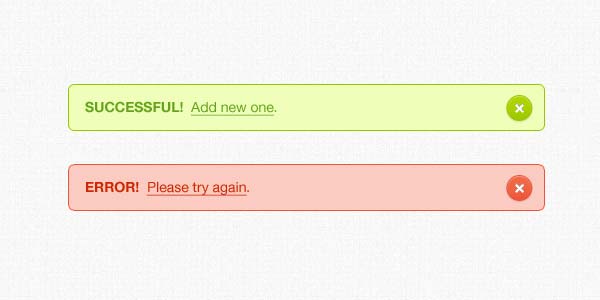 ---
Web Alerts or Notifcations
Totally cool alerts/notifications. Great for any app or form validation.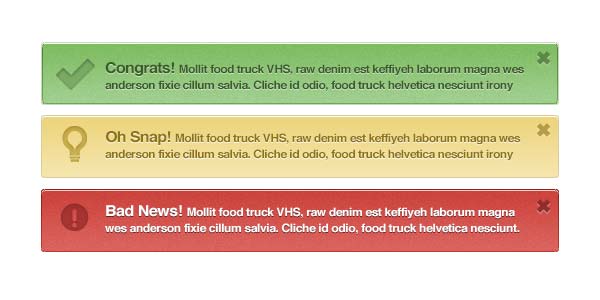 ---
Funky Notifications
A more recent work of mine, these were created just for fun. There is really endless possibilities with these notifications, it is really easy to change the colors. Enjoy!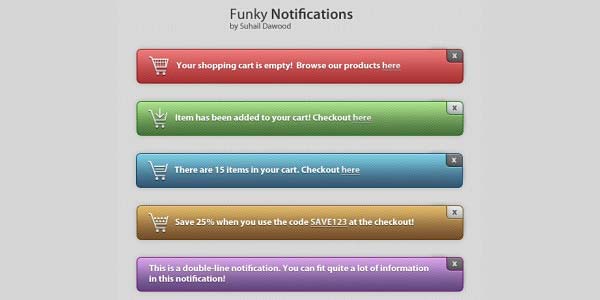 ---
4 minimalistic notice styles
Fully layered notice stripes / Easy to edit / 100% vector shapes / Font used: Lucida Grande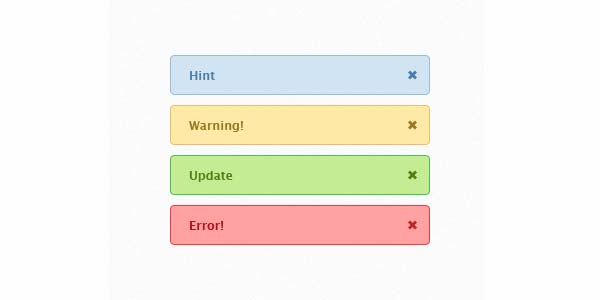 ---
Colored, Texturized Alert Boxes
Some alert boxes for the latest tutorial release on HV-Designs.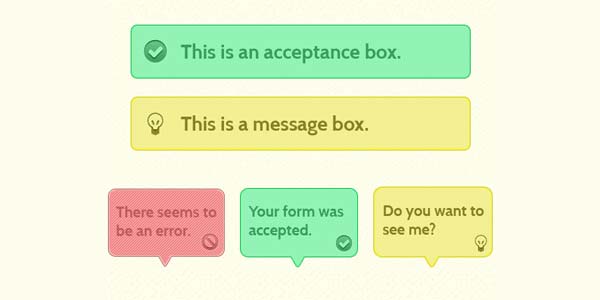 ---
Textured Alerts
Textured alert styles. All colors are easily changable, and the texture is just a pattern overlay style, so it can be removed if desired.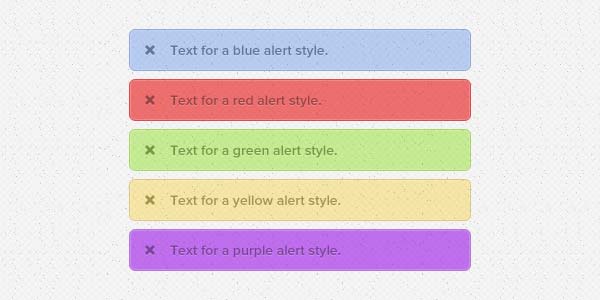 ---
Stylish Notifications
Some clean, stylish notifications. The background pattern was created by Orman Clark and the icons were done by Yummygum.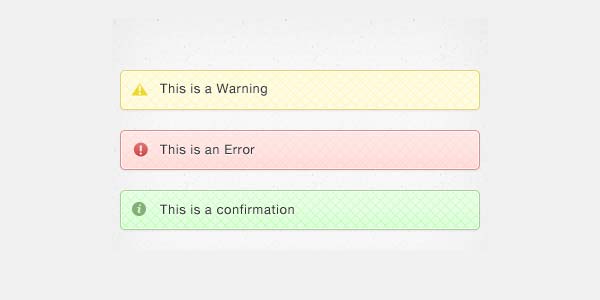 ---
Notification/Alert interface
Here you have a great interface, which you can use in your design, doing its very attractive. It's PSD file, so you can change it, and use for whatever you like.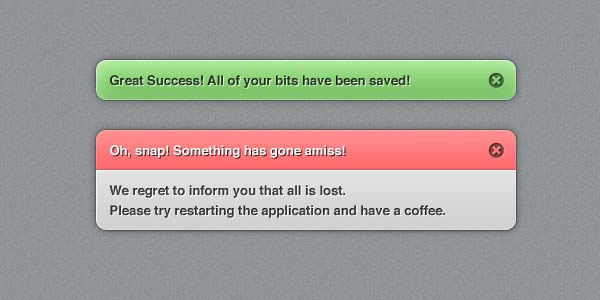 ---
Pretty little notification boxes
PSD freebie includes six pretty little message boxes in Photoshop PSD format. These notification alert graphics can be used in your web or desktop applications and software.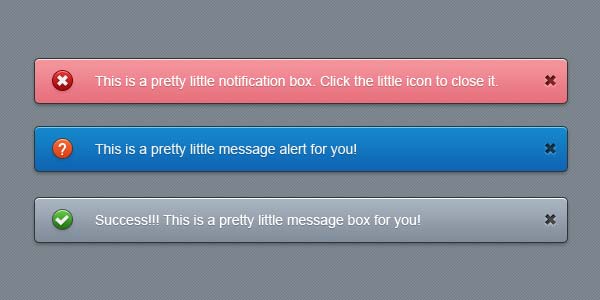 ---
Notification Bars PSD
Minimal notification bars which you can use on your website or blog. These notification/alert bars can be handy to create shortcodes for your WordPress themes. You can use this file in your project without any restriction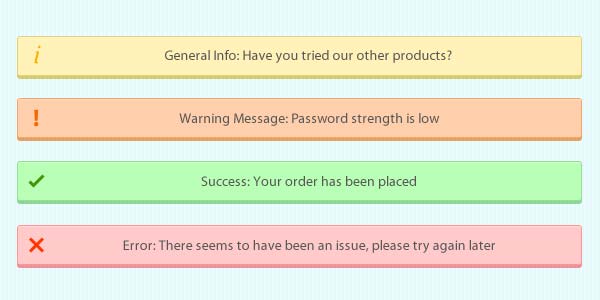 ---
Notification Blocks
This freebie includes four pretty message boxes in Photoshop PSD format.These notification alert boxeses can be use in your upcoming graphic design or web design project.All folders and layers from psds have an order and named.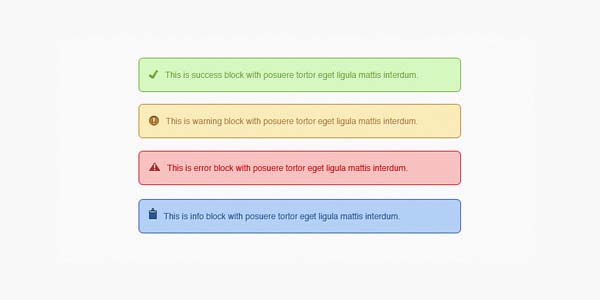 ---
Grunge Notification Box
Super cool Grunge Notification Box, it's a free web element with a great design and nice theme.This wonderful Notification box comes in 3 differents styles and colors.It looks really awesome with a high resolution quality and nice icons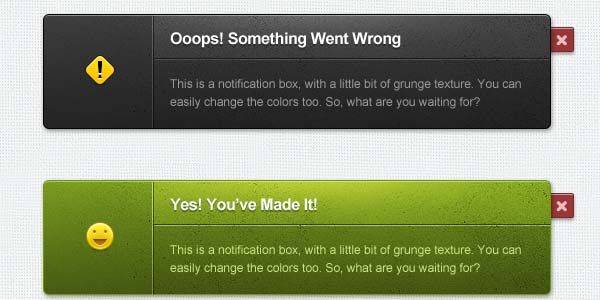 ---
notification bar - 4 colours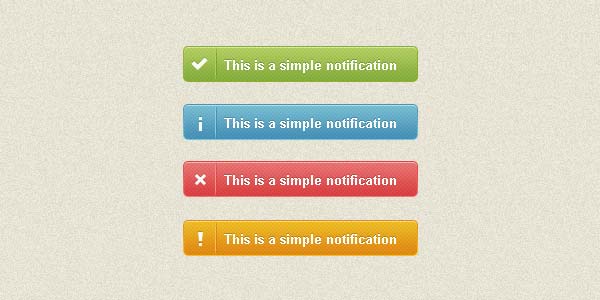 ---
Clean Notification
The design is quite flexible, you could use it in variety of different situations, from related posts, notifications, to showing basic user info.