Minimal and elegant WordPress theme with responsive layout. Ideal for graphic designers or photographers. Also can be used as portfolio. Optimized for mobile browsing, and of course, free to download and use
Origin
Origin is a parent theme, built on the Hybrid Core framework. Which means it can be used as is, or as a platform for heavy customization via child themes.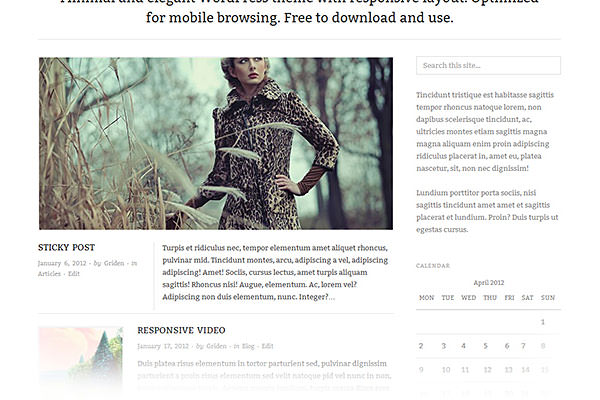 Main Features
Prominent Tagline
Responsive Layout
Custom Background
Theme Options
Breadcrumbs
Built-in Lightbox (Fancybox)
SEO Friendly
Child-theme Friendly
Theme-matching styles for contact form plugins – Gravity Forms and Contact Form 7
Translation-ready (contains .po/.mo files)
---
Hatch
Simple portfolio/photography WordPress theme with responsive layout for improved user experience on mobile devices. A parent theme, built on Hybrid Core – with nearly limitless possibilities for expansion due to the platform architecture and hooks for adding your own functionality.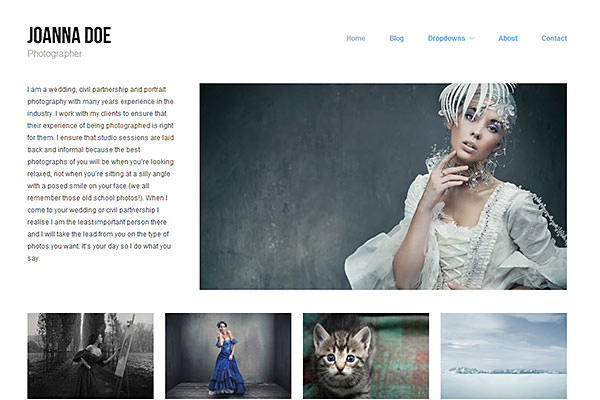 The theme is built to utilize core WordPress functions for image and gallery management. With the exception of the in-built Fancybox script, no extra/custom functionality or third-party plugins are used to store, organize, or present your content.
Main Features
Image-oriented Design – the focus is on you and your content.
Header
Background
Theme Settings
Responsive Layout
Theme Settings
Built-in Fancybox
Child-theme Friendly
Styling for popular contact form solutions – Gravity Forms and Contact Form 7
Translation-ready (contains .po/.mo files)
---
Gridly
Folio WordPress Theme with minimal & responsive design.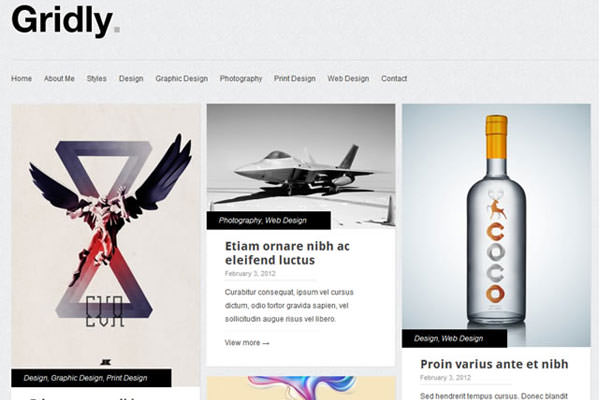 Features
Minimal Design
Responsive for iPhone
Simple Options Panel
Featured Images
Logo upload option
2 Colour Schemes
Widgetized Footer
jQuery Masonry
WordPress 3.0 Menus
---
Balloons
Balloons is a single-column layout with parallax scrolling effect and responsive ability.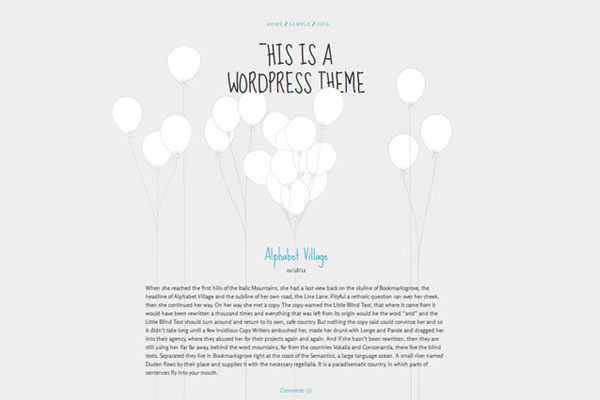 The footer is customizable using widgets. The colors are customizable, and a style sheet for the WP-Pagenavi plugin is integrated. It can be switched between English and German as a front-end language.
---
Photum
Photum is a theme to use with WordPress that will turn your site into a clean portfolio that you can use to show off your photos.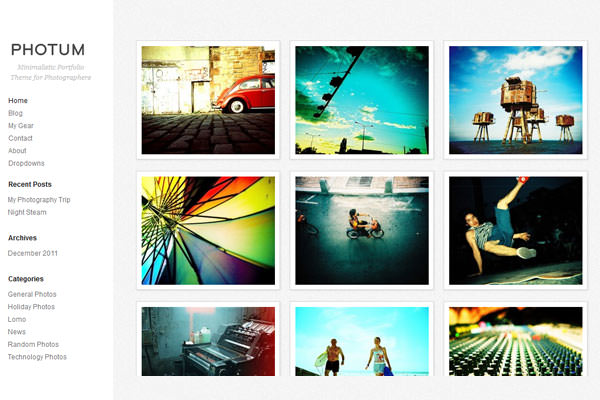 The theme is built with HTML5 and is responsive, meaning that as you resize your browser window the photos will re-arrange. This makes the theme work with many different screen resolutions and mobile devices. It uses custom post types for the photography portfolio so you can have a separate blog and portfolio. We have included options so you can set up different equipment and tag each photo with it, you can also add locations which will get added to the photos.
---
Ascetica
A spacious and elegant portfolio/blog theme with responsive layout. Best suited for bloggers who want to showcase their work alongside their posts, photobloggers, designers, and photographers.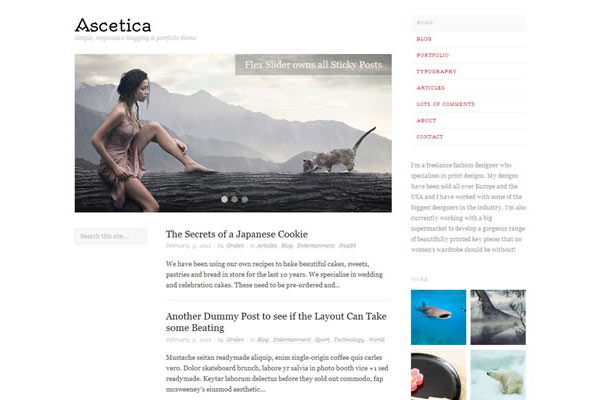 Theme Features
Custom Background
Custom Menu
Custom Page Templates
Featured Images
Featured Image Header
Post Formats
Sticky Posts
Theme Options
Threaded Comments
Translation Ready
---
Sundance
A free video theme brought to you by the folks at Automattic. Despite its minimalist design, Sundance was crafted with clean, elegant typography and close attention to detail. The home page offers a featured video carousel. It supports the video post format, widgets, custom background, custom header, custom menus, and a custom link feature for your social media pages.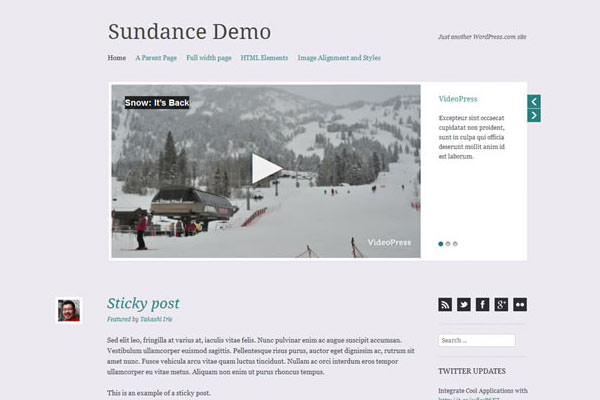 ---
The Bootstrap
The Bootstrap is a clean, friendly, modern WordPress Theme, with a great image and gallery handling, based on Bootstrap from Twitter.
The Bootstrap benefits from the responsive grid layout, that Bootstrap has to offer. So no matter from where your site is accessed, it will always display neatly on any device!
Header images with flexible heights
With v1.2.1, The Bootstrap supports header images with flexible heights, which [will be] introduced in WordPress 3.4. This gives you even more flexibility, when it comes to image headers and displaying your site name.
Other than WordPress users know their navigation bars, Bootstrap uses the parent element as a title for child elements, if there are any. Therefore the parent element can not be directly accessed through the navigation in this Theme.
Image carousel on Gallery Post Formats
With v1.2.3, the first ten images of a gallery will be shown in a slick image slider on overview pages, when the post is marked with the gallery post format. You can even implement you own carousel within posts or pages, when following the markup examples provided at the Bootstrap documentation!